As a small business owner, it can be difficult to figure out how to grow your business. Your company might have grown in scope and size and you may have a steady customer base that regularly shops with you, contributing to your business running smoothly. 
But what if your ambitions are greater than this and you want to scale your small business. The very first thing you should do is write down a plan and have a clear vision. If you don't have a clear goal, it will be difficult to come up with an appropriate strategy.
If you want to take your business to the next level, plan effectively, and be willing to get creative, below, we offer 5 proven steps to take action and reach your goal of scaling your small business.
Market Your Business the Right Way
If you market yourself in the right way, there is a much greater chance that you will attract customers. First, you need to have a clear marketing plan. This should include information about your specific target audience, what channels they target and how to reach them.
You need to communicate with your customers so they can learn more about what you offer. Also, focus on your UPS, that is, your unique selling point. What can you offer that no competitor can and why should customers choose you and your products?
Even though this is an essential component of a strong marketing strategy, the USP is often overlooked by small companies that fail to make it clear why their product or service is the better option. For example, if you are a dentist, you need to know the specific marketing needs in your industry. You can create targeted campaigns to reach potential customers or find a specialist in marketing for dentists to help you make the most efficient campaigns and make your business stand out.
Offer Rewards
Businesses, regardless of their size, know just how great of a role their employees play in the company's overall success and growth. For this reason, small businesses should be aware of the importance of providing regular feedback, recognizing, and taking care of their employees. This will make them feel motivated to work harder and strengthen their skills.
You should look at the idea of offering incentives for good performance and these rewards can be weekly, monthly or quarterly, but regardless of how you structure the reward system, just make sure it counts. Don't forget about anniversary celebrations and think of nice work anniversary ideas, such as a gift basket or a care package. This is not only a considerate gesture, but it will also make your employees feel valued and boost their productivity.
Build a Better Website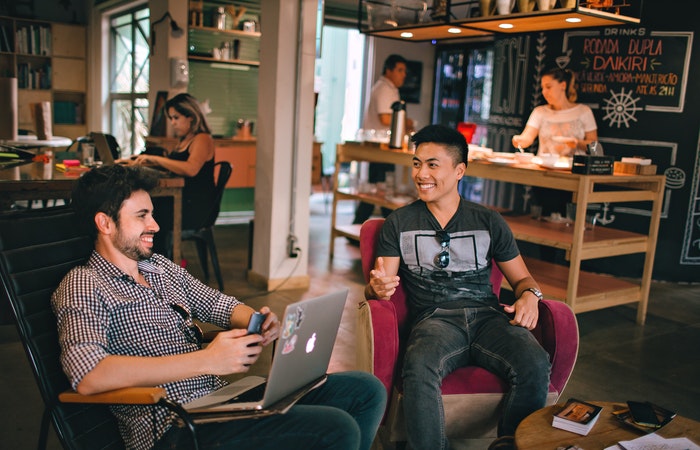 In today's business world, a strong online presence and a user-friendly website are a must for a small business to succeed in the competitive marketplace. There are nearly 2.14 billion global digital buyers, and simply boosting your online presence can help you consolidate your position and tap into a huge market. As you raise brand awareness, you may see an increase in lead generation and customer conversion rates.
If you have a WordPress website, for example, you can look for a WordPress toolbox to help you improve it. This will assist you in configuring your website to meet your specific needs, such as SEO plugins, branding, security features, and other tools that can improve your website's accessibility and overall customer experience.
Find a New Market and Provide Good Customer Care
One strategy for scaling your small business is to find new customers in a completely different market. Review your products and services and think things through. Are you in the position of changing something so that your products and services also appeal to a group that you've not focused on? Can you target another geographical area? If you find it difficult to see your products or services from a new perspective, you can always ask for advice from an outsider.
Customer care is incredibly important for small business owners. Customers should feel satisfied with your service and the goal should, of course, be for them to want to come back for new purchases. So, try to spend time on additional sales with good arguments about why your customer needs your products. 
A satisfied customer will also talk a lot about you to their friends and acquaintances when they ask for recommendations. Recommendations are a marketing strategy that you should not underestimate. It can also have a negative effect if your customers choose not to recommend your company to those they know.
Ask For Help
You cannot be good at everything and if there's something that you don't have the skills to do, make sure someone else does it for you. It's a good idea to ask for help from people who have already made the journey you want to make with your business, going from a small company to a growing one, and who know what challenges you may encounter along the way.
Final Thoughts
Scaling your small business requires a proper strategy, engaged employees, satisfied customers, and a better online presence. Nothing can guarantee a smooth ride but if you refine your approach and put in the work, you'll be able to identify the most successful path to success.