Wireless Speakers – Beyonce or BTS, Beethoven or Queens, Desi Hindi or Punjabi pop – whatever be your jam – nobody can ever question the power and importance of music in our lives! It keeps us motivated, it keeps us distracted, it inspires us and provides a perfect escape from the mundane life!
Now, if you are also someone who enjoys music and wants it to sound like the way it's supposed to then owning a good bluetooth speaker is a must for you! Thanks to them, it is now very much easier to integrate our favorite tunes into our routine, whether we are at home or on the go. 
A simple cable-free connection that's convenient but doesn't sacrifice top-quality sound. That's why the market is currently flooding with a number of portable speakers that it becomes difficult to find which one to buy.

If you are also struggling with finding the right product (for yourself or to gift someone special), read on! As we list the top things that you need to keep in mind while making the purchase.
Sound Quality and Drivers
This is a no brainer! You are going to use your wireless speaker to listen to music! That's why sound quality is of paramount importance to everyone. Audiophile or not, the speaker should at least be able to do justice to your favorite tunes. Additionally, if you are a fan of loud and bass-heavy music, there are many speakers in the market which come with dedicate modes to give you that extra punch.

The driver is the heart of any speaker so it's imperative you get a decently sized driver. The number of drivers and their placement also make a difference to how the speaker will sound. Smaller Bluetooth speakers typically come with a single, full-range driver and are positioned either facing upwards or downwards, in order to displace sound better. Hence when looking for speakers that sound very good, don't forget to have a look at the driver size! 
Battery life and Playback Time
On one hand where wireless speakers give you the freedom from the messy horror of wires and cables, they bring with themselves the load of being run on a battery. And we all know one thing about batteries for sure – they drain out!
Now this goes without any argument that you want your music to keep on flowing, so it's important that you check for the battery capacity and the number of playtime hours you get out of them.
Especially, if you are carrying your portable speaker on a trip or trek, where you won't have much access to a steady source of charge, it's very much important that your speaker is capable of lasting long enough for you to fully enjoy the experience. It should be able to survive for the time till you can charge it again.
How Durable is it?
Let's just be honest! We all are a little clumsy! Hence your favorite gadget has a great chance of getting damaged. Be it a splash of water or some dust, everything can cause them harm. Hence, you should check the IP rating of the speaker. On top of that, the material should be such that it doesn't break the moment you drop it by any chance. It should be sturdy and strong, while definitely not compromising on its style!
Now that you are well verse with the basic terminologies and things that you should keep in mind before making a purchase, let's also give you a few suggestions as well. The following boAt bluetooth speakers under 2000 are pack with phenomenal features and ensure that your party is always lit:
BoAt stone 1200
Get ready to feel the beats with these gorgeous looking bluetooth speakers with RGB LEDs.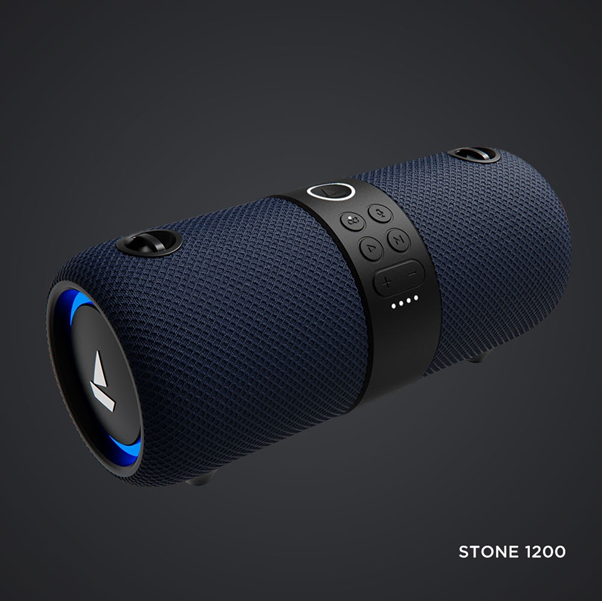 Cylindrical in shape, this speaker comes with a carry strap that makes them portable. It's 14W thumping sound with passive bass radiator will take your party on another level, the moment you turn them on! 
The speaker also supports TWS feature, meaning that you can connect two stone 1200s and forge them into one for a bigger impact. The speaker pumps out loud and punchy music for up to 9H on a single charge, while up to 7H with the RGB LEDs. 
Feel free to connect them over Bluetooth V5.0 or you also have an option of using AUX, USB or FM modes as well. Apart from these great features, the speaker also supports instant voice assistant via just a single tap. This makes them one of the best bluetooth speakers in India!
Tribit xSound
Sleek and Stylish – this wireless speaker comes with curved edges and a matte finish. The compact design of the speaker makes it portable. You can toss it in a backpack and carry it anywhere you want.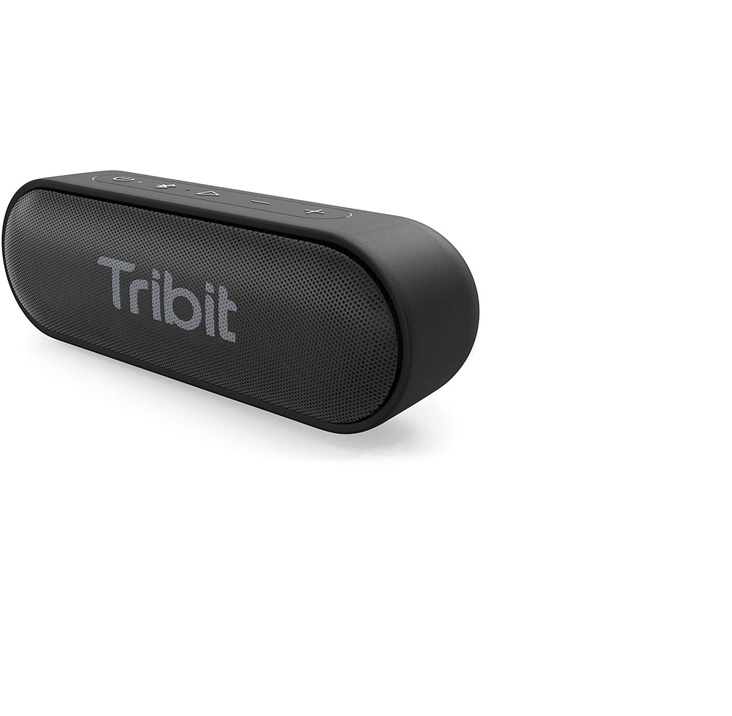 The dual 8W power drivers deliver shocking sound without any distortion, even at the maximum value. The crystal highs, crisp mids and the rich bass creates an immersive listening experience. You can depend on its premium Bluetooth 4.2 technology effortlessly to connect to all of your Bluetooth-enabled devices!